I have to admit I have been feeling pretty down with all that has been going on lately. Eliza being sick, mommy being sick, and the thought of sending Eliza back to the dreaded day care have all put me in a mood for sure. This is why on Wednesday when I found a package sitting on my doorstep I almost did a cartwheel (Yes! I can still do a cartwheel!). I was anticipating the arrival of my
Patemm Pad
and it couldn't have arrived at a better time.
I have been super amped about this mom invented round diaper changing pad and I couldn't't wait to try it out. Don't get me wrong. I am in love with my Petunia Pickle Bottom Diaper Bag- but it has not met my needs on many occasions. I can't even tell you how many times I just wanted to run out to the store and did NOT want to lug my whole diaper bag. Unfortunately, I had no alternative so I just lugged it along. So, I started searching for a lightweight bag that could also serve as a changing pad. I am not talking about one of those tiny little rectangle changing pads you normally find in stores. Using one of those pads looks like a scene from Ultimate Fighting as I try to hold Eliza down and change her diaper. Mommy is usually the one to tap out first. Eliza is very long and extremely squirmy. I don't want her squirming off of a changing table or wiggling onto the gross germy floor at a restaurant or store. I check those bathroom cleaning logs at Target- they leave much to be desired.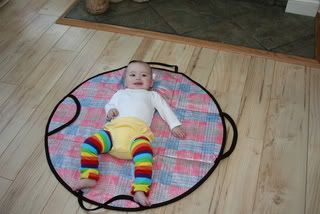 My quest ended when I found the
Patemm Pad
. It is just what I was looking for. It is stylish and lightweight. It holds the few items you NEED when you just have to run out to the store. You can use it while baby wearing or toss it into the bottom of a stroller. Plus it was invented by a mom- which means she knows what other mom's need. You might be wondering about the unique name. Founder Grace Welch named the pad after her kids, Patrick and Emma, who were the inspiration for her invention.
When my
Patemm Pad
arrived I couldn't wait to get it open. It was wrapped all nice in brown tissue paper and I felt bad ripping into it- but I did anyway. I quickly unfolded it and then practiced refolding it. I was amazed at how easy and convenient the changing pad was to use. An added bonus is the circular shape which is more ideal for wiggly little ones. When you're finished you just fold it back up into a fashionable little bag. I am in love! Chek out www.patemm.com for all of their fab prints.
Here is a slide show of how the pad works!