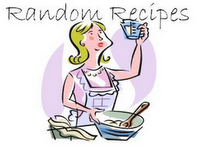 I know it has been a loong time since I did Random Recipes but I do have some pre vegan recipes in my collection that I used to love- and sometimes miss. I have to thank my neighbor Stacie for this recipe. It is truly delish. and will become and instant family favorite.

Bacon Crescent Rolls


8 oz Cream Cheese
8 oz Cooked Bacon
1/3 Cup Parmesan Cheese
¼ Cup Finely Chopped Red Onion
2 Tbsp. Parsley
1 Tbsp Milk
2 Cans of Crescent Rolls

Preheat Oven to 375
Mix cream cheese, bacon, Parmesan cheese, red onion, parsley and milk, Spread out over crescent rolls.
Cut crescent Rolls and roll up.
Bake for 12-15 minutes- until golden brown.