I never thought I would be so excited about someone putting a foot in a mouth. Last night Bubba Fresh a.k.a. Eliza discovered her feet. My little contortionist was yanking her little foot to her mouth and licking her big toe. I was cracking up. It is moments like this that make me so happy to be a mom. The joy she brought me in a couple of minutes is immeasurable. Unfortunately, DH did not have the camera on hand so I had to use my phone to capture the moment. The pictures are not the best, but you can still get a feel for what she was attempting to accomplish. As you can see in the pic, she hasn't figured out that she can't fit both her hand and her foot in her mouth at the same time. YUMMO!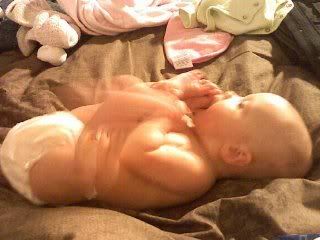 Moving Along!

Yesterday was grocery day and DH and I made our way to Shoprite. My confession is that I secretly judge people based on what fills their shopping carts. Some people read palms; I read grocery carts. I am aware this makes me a hypocrite as I hate when people judge me based on what I eat or choose not to eat. I guess the difference is I just think about things and don't actually say anything to people. If I did I would probably get socked in the mouth. I am so intrigued by what people buy to feed their families. Don't worry, I check out my own food with the same critical eye. As I stand in the checkout I always ask myself, "What would people think if they were checking out my groceries?"

Had you been peeking this is what you would have found in my cart yesterday:
Raw Unsalted Almonds
Trail Mix
Boca Original Vegan Burgers
Tofutti Cheese Slices
Chipotle in Adobo
Enchilada Sauce (Mild) * they were out of hot
Corn tortillas
28oz Canned Plum Tomatoes
Seltzer- 6 Bottles
Pomegranate Green Tea Bags
Creamer- for DH
Deli Turkey- for DH
Carrots
Onions
Sweet Potatoes
Jalapeno (3)
Peaches
Bananas
Swiss Chard
Watercress
Apples
Pears
Strawberries
Limes
Amy's Organic Soups
Soap
Tom's of Maine Toothpaste
Larabars

Now that I look at my list I have to admit it is pretty boring. I don't drink soda or anything with artificial sweeteners. I don't eat meat so aside from the deli turkey for DH my cart is meatless. Prior to giving up meat you would have found some chicken and ground turkey. There are really no snacks. I don't buy them so that I don't eat them. I guess the almonds and Larabars are my snack. I do love corn chips. However, I will indulge in them until my lips are burning and that can't be good. Anyway, we had a lot of staples at the house so that is why there is no bread, couscous, rice, pasta, beans etc.

When I look at other carts I am sometimes amazed at what I see. I hate carts that are loaded with soda, cookies, chips and sugar cereal. Produce is often scarce which disturbs me. I know kids like to snack, but is finding a semi healthy snack too difficult?

I once saw someone who had about 30 Hungry Man dinners. This just made me laugh. I know that they must have been on sale- but seriously?
Another favorite of mine is a lady who had 6 gallons of milk, 4 cartons of eggs and about 5 bags of sugar and flour. I can only hope she was holding a bake sale.

And so I ask you, What do you think of my cart? What would I find in your shopping cart? What does it say about you?