Hello! I just wanted to wish everyone a happy Easter. I hope you all had a wonderful day!

Eliza's first Easter basket.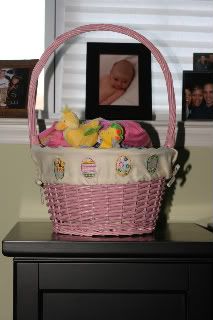 Mommy and Eliza



Daddy and Eliza




Today when Eliza woke up early from her nap she was still a little sleepy and I decided I would sit and rock with her. I don't know what it is about that darn rocker but it always gets me feeling a little sentimental. Maybe it is because my baby is getting bigger and my arms are getting smaller. Maybe it is because I think of the story I'll Love You Forever and I get teary eyed. While rocking in the dark, quiet room I started to think about how big Eliza has gotten over the past 6 months. I know I spend most every day rushing around and attending to things that don't really matter in this life. I also know that holding and rocking my baby does matter because it won't be long before she will be too big and too independent. Childhood is ephemeral and in these cherished moments I try to drink in the essence of my daughter's infancy. I know it will not be here long.

I started thinking of a list of things that you will NEVER hear me say.




I should have spent more time cleaning


I wish I had held my daughter less


I should have let her cry it out in her crib


I read to many books to her when she was little


I called the pediatrician too many times


Going to the emergency room was a mistake


I spent to much time worrying


There is nothing that is so important that can't wait while I hold my sleeping baby or spend time with my husband or talk to a friend in need. The dishes, wash, cleaning, bills, etc will get done eventually and if not- WHO CARES! Sometimes I think we get so caught up we forget to stop and appreciate the small things. I know I forget this all the time. And then it is usually in the quiet moments when I remember and things come back into focus.
I hope everyone had time to cherish the important things today.
I could not help but share one of my favorite books. ENJOY!