Last week before the onset of the tummy bug I received a Banda Bib and a Big Bib in the mail. Both products come from the amazing company Bazzle Baby.

Eliza is teething big time and I can barely keep up with her drool. She is a drool queen and her shirt always ends up soaking wet. The day care requests 5 or 6 bibs a day and she wears one all day long. This is not very stylin for my rock star peanut. When I found the Banda Bib I immediately was in lust. It is a bib that looks like a bandanna. How cute is that? It is super stylish and looks adorable with any outfit. This is a great alternative to a standard bib wich did nothing for Elzia's fashion sense. I figure at least one of us had better look good- and these days it most often is not me. It is super absorbent and fits close to the chin so her little neck won't get all wet.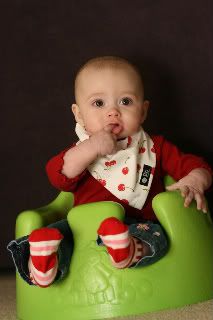 I sent Eliza to day care with her Banda Bib and I am pretty sure the other tots were jealous. The ladies that care for lil E loved it! They thought it was for her head before I put it on as a bib. They were really impressed by how it stayed close to the chin and caught the dribble! I let them know that Banda Bibs are now available at Target!

The other awesome bib from Bazzle Baby is the Big Bib. We started giving Eliza solids and I figured most of the food would end up on her and not in her. Little did I know I started solids on the same day she would end up with a tummy bug! I needed a good bib to keep her dry. I used my new Bib Big which is 10 x 13 inches and it worked great. I especially like the soft chenille backing. Eliza had tons of fun with her cereal and stayed very dry.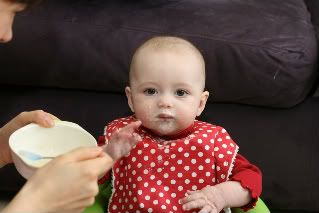 Another great thing is that the bibs are adjustable. A lot of the bibs I purchased when Eliza was a baby are too small for her now and in turn a big waste of money. I am adding these bibs to my list of must haves for new moms.



Once you get your Bazzle Baby gear you can take a pic and send it in to the company. They are holding a contest and one baby will be featured on the front page of the website and win gifts valued at $210. I am entering Eliza and she is pretty darn cute! Bring on the competition.