Here are some pics of Eliza in the hotsling. I know I look like a hot mess in most of my pictures. I swear I did not always look like a candidate for What not to Wear! Although lately I have been secretly hoping Stacy and Clinton will run up to me with a camera crew and a $5,000 credit card.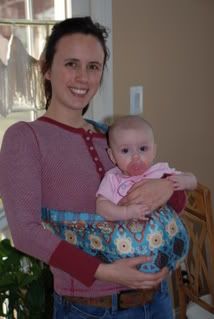 I have also been practicing with my Babyhawk Mei Tai. I purchased the
Tummy 2 Tummy DVD
and I have been watching it for a few days straight. I am addicted. If you are interested in this DVD you can purchased it from
Peppermint.
I wore the Mei Tai to the mall yesterday and Eliza napped cozily in there for almost the whole time. There were a couple of babies in strollers and I know they were jealously eyeing Eliza.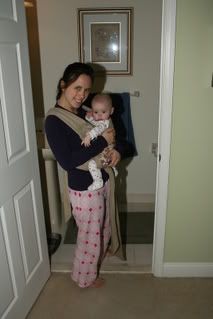 I hope to make videos of some carries but I need a cord for my JVC that plugs into the computer.